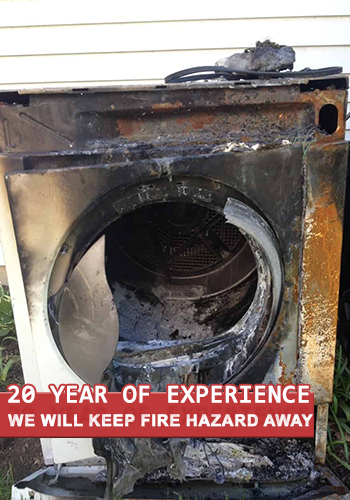 Signs Of

Faulty & Blocked Dryer

Fortunately, some signs can warn you of the problem before any severe damages or loss happens. It is essential to be aware of these signs to take care of it directly. When your dryer takes over one cycle to dry clothes, it does not need a replacement, but it needs immediate professional cleaning.

Also, when the clothes are too hot to touch or cause moisture inside your house, consider 911 Dryer Vent Cleaning Euless TX's professional dryer vent cleaning. When you neglect lint removal, you are shorting your dryer's life & use extra electricity. Avoid all these problems & stop wasting your money in vain with our free estimate service!.
Prevent

Serious Dryer Vent Fires

Vent cleaning is one of the most overlooked services inside our houses yet the most essential one that we provide for our clients. A filthy & clogged dryer vent is a severe fire hazard inside our homes! Luckily, our professional techs use the state-of-the-art equipment & high-power vacuums to clean your dryer vents.

With 911 Dryer Vent Cleaning Euless TX, we make sure that your household is safe and your dryer is not costing you extra money. If you live Euless, TX, schedule your dryer vent cleaning today! Our technicians will help you reduce your energy bills and prevent dryer fires. Give us a call now to get regular lint removal & dryer vent cleaning annually at the cheapest prices.